Virtual Design World Cup 2019 Results Announcement
A total of 58 teams have signed up to Virtual Design World Cup (VDWC), the 9th Students BIM&VR Design Contest on Cloud (hosted by Virtual Design World Cup Executive Committee). 49 teams passed the 1st round and 11 works have been nominated. On 14 November 2019, at Shinagawa Intercity Hall, the World Cup Award, 2 Excellence Award, and 4 Honorable Judge Award have been determined through the final open judging.


| | | | |
| --- | --- | --- | --- |
| | | | World Cup Award |
Entry No.
55

 Title :

Flexispace:An Adaptive Mixed Reality Platform for Creators and Users.

 Team Name :

CyberVASE

  Victoria University of Wellington (New Zealand)
| | |
| --- | --- |
| Overview | |
| | |
| --- | --- |
| Flexispace is a mixed-reality, multimedia, voxel-based platform allowing for the design of flexible physical space in Osaka Dream Island for adaptive mixed-reality entertainment. The voxel-based platform allows multiple VR design scenarios to happen concurrently. Furthermore, with the aid of drones, the voxels enable Flexispace to continuously evolve and adapt to form various spatial structures to suit the design scenarios that ever respond to the users needs . Two possible design scenarios are showcased in this submission. Flexispace will provide flexible and tailored entertainment experiences to the visitors of the Osaka Dream Island. | |
Check the work

---
| | | |
| --- | --- | --- |
| | | Excellence Award |
Entry No.
50

 Title :

Peach Blossom Spring

 Team Name :

Spirited Away

  National University of Kaohsiung (Taiwan)
| | |
| --- | --- |
| Overview | |
This project will create Yumeshima as a fairyland for future entertainment.
The planning concept combines innovative concepts such as connected overall planning, circular economy, and urban laboratories.
In addition to overcoming complex issues such as society, culture, and technology, the integrated resort's plan will use virtual reality technology to present new entertainment styles to welcome the 2025 World Expo.
The project is extended by the imagery of "Peach blossom spring." The base is planned as the theme of mountains, hills, villages and ancient cities. Through the series connection between the spaces, the rich layers and contexts of the stories are displayed, so that tourists can be immersed in dreams that will not end. Experience the future of the world like a fairyland.
Check the work

---
| | | |
| --- | --- | --- |
| | | Excellence Award |
Entry No.
56

 Title :

Yamato Spirit

 Team Name :

Ronin110

  National University of Kaohsiung (Taiwan)
| | |
| --- | --- |
| Overview | |
The "Yamato Spirit" project seeks to establish a new type of future entertainment resort through the combining of virtual reality and physical construction. In this project, virtual reality enhances the visual effect of human sense and interaction.
On the other hand, physical construction establishes the connectivity of people,
nature and Osaka. In addition, Yumeshima is an artificial island located at the mouth of the sea, it faces the threat of a tsunami. Therefore, a complex evacuation route and disaster prevention problems are derived.
Check the work

---
Honorable Judge Award
Digital Dream Award
Prof. Yasushi Ikeda (Chief of executive committee of VDWC / Graduate School of Keio University Representative of IKDS)
Entry No.
51

 Title :

Electopia

 Team Name :

Pioneer

  National University of Kaohsiung (Taiwan)
| | |
| --- | --- |
| Overview | |
Electopia is a place to immerse people in their dreams.
This program uses the concept of Social 5.0, apply AI, IoT and identification of human behavior technology to improve the convenience of life, to achieve a high quality and accurate service society.
At the same time, this program applies CG (computer graphics) and MR (mixed reality) to create a unique urban experience, slimming the difference between real and virtual experience, and satisfy the strong desire of human beings to experience the unknown world.
Check the work

---
Honorable Judge Award
Mixed Reality Award
Prof. Masaru Minagawa (Professor of Faculty of Engineering Department of Urban and Civil Engineering / Vice President, Tokyo City University)
Entry No.
38

 Title :

Yumeshima-A destination of the industrial revolution 5.0

 Team Name :

Wave Alpha

  University of Transport and Communications (Vietnam)
| | |
| --- | --- |
| Overview | |
| | |
| --- | --- |
| With the goal of developing Yumeshima - the artificial island, Wave Alpha team suggests the idea of project and design with topic "Yumeshima - A destination of the industrial revolution 5.0". In this project, our team aim to apply the new wave "Smart Society 5.0" thereby turning this place into a dynamic city with powerful combination of virtual reality, augmented reality and physical construction. About infrastructure and transportation, we plan in a synchronous, convenient, intelligent, diversified, and well-linkage but not losing sustainablility and harmony with nature. Thereby, not only Yumeshima inhabitant but also Osaka citizen and tourists are able to experience urban space with mixed reality entertainment. | |
Check the work

---
Honorable Judge Award
Paramyth Award
Prof. Kostas Terzidis (Tongji University)
Entry No.
39

 Title :

Dream Garden

 Team Name :

OTOTW

  Thuyloi University (Vietnam)
| | |
| --- | --- |
| Overview | |
| | |
| --- | --- |
| Holding an important location in the transportation network and owning a large area capable of future development, Yumeshima has been chosen as World Expo 2025 Candidate with no doubt. Of the four given area of Yumeshima, we have decided to concentrate on the World Expo. From researched ideas, we have come up with a masterpiece on air. Utilizing our advantage of the good base in information technology, we would like to transfer this potential place to become one of the best Expo in the world. There would be not just art & design but also the latest future technology from all over the world. | |
Check the work

---
Honorable Judge Award
Future Real Award
Prof. C David Tseng (National Chiao Tung University, Taiwan)
Entry No.
49

 Title :

Fata Morgana

 Team Name :

GG Granite Group

  Robert Gordon University (UK)
| | |
| --- | --- |
| Overview | |
| | |
| --- | --- |
| The intention of the work behind the proposal was to derive an organic response to the brief and site. The core principle was chosen to be levels, which we then incorporated in each aspect of the work process. Levels and layers dictated the form of the built environment, the landscaping and the VR experience. We were keen on introducing an element of experience through the VR, which would not only behave as an architectural tool, but would rather enhance the experience of architecture giving the built environment and landscaping multiple functions, hence allowing each experience of architecture to be unique. | |
Check the work

---
| | | |
| --- | --- | --- |
| | | Nomination Award |
Entry No.
12

 Title :

Future AquaCity Osaka

 Team Name :

S&K

  Technological University, Maubin (Myanmar)
| | |
| --- | --- |
| Overview | |
| | |
| --- | --- |
| Since we learned that Osaka City will definitely be one of the famous cities in the future, we would like to participate this competition with an idea that entertain people. And we would like to make Yumeshima Island to develop in a substainable way. Too much substainable will be boring in the future so we bring down culture and activities to this Island. To provide the Island green spaces, we plant trees along the coastal which will be distributed back to the Island when grow up. | |
Check the work

---
| | | |
| --- | --- | --- |
| | | Nomination Award |
Entry No.
23

 Title :

future to the future

 Team Name :

4K

  Kyung Hee University (Korea)
| | |
| --- | --- |
| Overview | |
| | |
| --- | --- |
| Yumeishima Island in Osaka is the island where the Osaka Expo will be held in 2025.While solving the problems of Osaka City, such as environmental problems and jobs, it was also allowed to become a famous place in Osaka after the expo. | |
Check the work

---
| | | |
| --- | --- | --- |
| | | Nomination Award |
Entry No.
25

 Title :

Discover Japan

 Team Name :

NAGAMI DESIGN ARMY

  Takushoku University (Japan)
| | |
| --- | --- |
| Overview | |
| | |
| --- | --- |
| Discover Japan is well-planned to be a promotion medium of unfamous prefectures which have great tourism potential (minor tourism spot) for foreigners; Yamaguchi, Kanazawa, Fukuoka, Yamagata and Aomori. Discover Japan would be the main entertainment, featuring two ways educational enjoyment between real and virtual world and will be a combination of AR/MR technologies, moderate-speed jet coaster and minor tourism spots' amusements. For instance, visitor can experience Japanese tea ceremony virtually at Kanazawa's pit stop and directly can experience it at provided Tea House in Japanese Traditional section. Basically, the design of every structure built is inspired by futuristic element and adding in with Japanese culture fundamental. | |
Check the work

---
| | | |
| --- | --- | --- |
| | | Nomination Award |
Entry No.
42

 Title : 5G Intelligent Transportation
 Team Name : 4Y  National Kaohsiung University of Science and Technology (Taiwan)
| | |
| --- | --- |
| Overview | |
| | |
| --- | --- |
| The theme promotes the construction of smart cities and transportation, and creates a smart city that can be shared. Using innovative technology of vehicle networking, connecting the vehicle information with the action network, using the technology of satellite positioning, sensors, electronic tags, data processing and so on, it is conducted the effective identification and transmission to the static and dynamic information of vehicles, pedestrians, roads and climate environment, and the data are integrated into the back-end platform to improve the urban problem of traffic congestion. Considering that the main demand in this area comes mainly from sightseeing, we have planned a set of transportation systems, gathering infrastructure planning and urban design to create a healthy, efficient and attractive environment. | |
Check the work

---
Page Top

This is an international design competition for students to compete amongst each other in designing an innovative architecture, bridge and city design using BIM/CIM &VR technologies.
Every year students compete for the top prize which is given to an outstanding work outlining a predefined theme in the aspect of design, innovative idea, and creativity. They plan and design their work based on the theme and then run a simulation. Their final model will be presented to the judges in a form of a script for evaluation.
To assist students with the production of their work, we plan to carry out workshops and seminars. We will also support the students who will make use of software from now on. Also you can communicate and collect a lot of information without having to visit the local area by participating various workshop reviews through the Web and VR forum (3D cloud BBS). The script of VR data created by FORUM8's software and a "Concept poster" (A1 size (lateral) in PDF format) are required for the final submission and the judgment is performed on the basis of "VR Cloud judgment". We would like you to use FORUM8's BIM software and VR technologies by all means and consider this competition as an opportunity to create your masterpiece. We encourage students from different departments majoring in different field of studies to make a team to work on their model together to demonstrate that BIM/CIM can be used in various discipline.
Prize
---
●World Cup Award : 1 (Award 300,000 yen)
●Excellence Award : 2 (Award 100,000 yen)
●Honorable Judge Award : About 4 (Award 50,000 yen)
●Nomination Award (Memorials)
Travelling and accommodation fee are provided for the selected teams for nominated works. Up to 3 members from the area other than Kanto area and 2 member from overseas in each team are scheduled to be invited to the award giving ceremony.
Theme2019
---
"OSAKA Dream Island, the Future City for Entertainment"
There is no doubt that the development of VR and simulation technology has led extension to the human experience as we never experienced before. As well as being able to move around the virtual world by the fact that CG/ high resolution real-time advances in VR technology and sensory devices on hearing and touch sensations are added to increase its experience, and is definitely sliming the difference between real and virtual experience and at the same time dynamics of various other phenomena making the whole experiences realistic and multiplying the opportunities for the future of VR.
In entertainment industry, application of VR technology to games and video contents has brought a market value particularly to the general public. Therefore, it is often the case that creating not only the realistic environment but also an environment that does not exist in reality, such as fantasy space and the universe, are able to be experienced with a sense of reality. This fact clearly indicates the strong desire of the human unknown spatial experience, the demand for providing the fantastic spatial experience, and the prospect of content and creativity (*1).

Furthermore, the new field of design in this VR entertainment industry is not limited to the experience of imaginary world without any reality, but flooding to the real world. As a result of this technology which we can recreate a unrealistic human experiences in scenes like amusement parks with, we should focus on the fact that physical construction and visual composition are being considered to be integral part of the design. An interactive digital image experience combining with projection mapping for instance projecting the CG into real space and the technology which senses human behavior is also gaining popularity (*2).

On the other hand, mixed reality created by superimposing a digital image on the screen which interacts with the motion or gestures of the human can be seen in everyone's smartphone nowadays. Judging from the effect of parallel comprehensive display of various information overlayed on large screen images used in recent sports arenas and concert venues (*3), the scale of this kind of composite media design is becoming a kind of entertainment to re-project the information of the crowd behavior at the venues where many people gather rather than at the personal spaces.

Thus, in terms of entertainment experience, the design of virtual space and real space is not separated or replicated, and is gaining a new value by being designed as an integration of the human experience (*4). Entertainment experiences created by the information technology will be an important element in the city design in the future. This field is considered as an active market even in the automobile industry which has been considered only as means of transportation (*5).

In this VDWC, therefore, we encourage participants to propose the design of urban space that brings the mixed reality entertainment experience. The design site is "Osaka Port Yumeshima" where an integrated resort is planned to be developed, and the World Expo is also planned to be held next to it (*6, *7). Just like an amusement park, in such a large-scale integrated resort, buildings are the device to create an extraordinary space which attracts the visitors by combining the visual arts and the amenities related to entertainment. At the same time, they can be an image expression device, for example elevators and transportation will also become the part of the entertainment without even being realized that these are also a part of the experience.

What we are expecting from you is to create a new urban experience by combining virtual reality and physical construction as described, but don't forget the possibilities of the existing simulation techniques. As you know there are several simulation techniques for example simulating the spatial experience visually by embedding the image/video and the program to control it. The structural analysis simulation is effective for the projection mapping on abnormal shaped object for example floating in the air. Crowd behaviour simulation is useful to create the entertainment from the collective action/movements of the crowd and Traffic simulation is useful to enhance the safety and convenience as well as entertainment.

Note: It is not necessary to design the whole target area shown here, part of the area can also be used.

Reference case
* 1 SCI-Arc's Master of Science in Fiction and Entertainment
* 2 Team Lab Borderless
* 3 POPULOUS entertainment space design
* 4 Refer to Design of media space, super subject at UCLA Architectural college
* 5 Nissan Motors, Invisible-to-Visible CES2019
* 6 MGM Resorts International's Osaka IR Plan
* 7 Refer to Osaka IR proposal plan by Hong Kong MELCO RESORTS & ENTERTAINMENT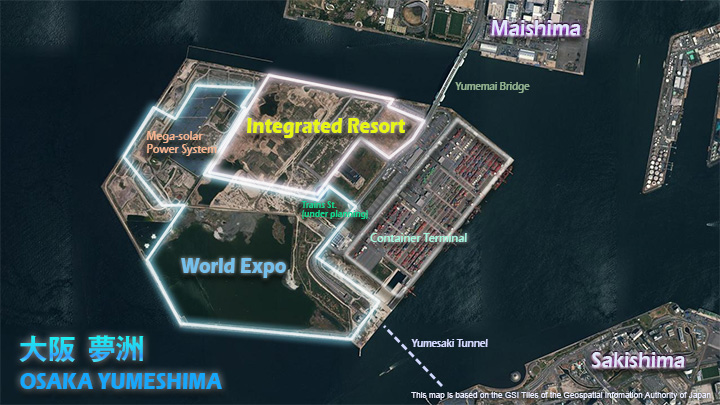 Competition Area
Qualification for applicant
---
All the team members involved should be either students or working students.
There must be at least 3 members in your team to apply.
Please make sure you outline the work contributed by each member of your team.
Steps to Follow
---
1. How to register
Please register and submit your work plan during the registration period (Tue. April 2 – Fri. Jun 21, 2019).
Works submitted will be judged on an anonymous basis. Please choose a team name and title by which an individual or group CANNOT be identified.
To register, please complete the page accessible from the button below with your team name, team members, etc.



* Ended

Please download and fill out the form using the following link to present your work with an overview explanation (in 100 words in English) and any images and upload it using the Registration form above.

| | |
| --- | --- |
| |  (Word, 45KB) |

2.Download link to get you started
Once your registration has been processed, we will email you the following information.
  ・Registration ID
  ・Download link for VR site model and materials for you to work on.
  ・How to apply for the seminars you want to take part in.

3.Project submission
Please submit your final work during the project submission period (Fri. Sep 27 – Wed. Oct 2, 2019) by accessing the dedicated URL form that will be sent to you.

The VR data created by using the software/solution licensed free of charge to the contestants
*It is mandatory to set up a script (automatic presentation) in the VR data of UC-win/Road. Please follow the rules below:
  -Please make a 30 second script as your main script, in such a way as to convey the aim of your work to the reviewer intuitively,like a commercial.
  -You may make multiple scripts each lasting for about 15 seconds in addition to your main script, however, please make sure the concept of your work can be understood by watching the main script alone.

| | |
| --- | --- |
| |  (PDF, 330KB) |

PDF file of A1 sized poster (oriented horizontally).
*In English.
Please create your poster with margin of 10mm on the left, right, top and bottom.

| | |
| --- | --- |
| |  (zip, 53KB) |
Available software / Free license duration term / Seminars
---
Rental duration for free licenses
Tue. April 2 - Thu. November 21, 2019
*The rental duration, license restrictions and format provided will depend on the individual product.
*Rental licenses allow the use of all the functions that each applicable software offers, but they cannot used for purposes other than the competition.
Available Software **Required software
Seminar schedule of available products
Applicants can also participate in training and seminar (free or paid) on this software held by FORUM8.
>> Seminars in Japanese

---

Date
Venue
Language
Seminar
Products and solution
7/12
Vietnam / Yangon
Vietnamese
/ Myanmar
Engineer's Studio® seminar
Engineer's Studio®
7/17
Shanghai / Qingdao / Taipei
Chinese
UC-1 series seminar
UC-1 series
7/24
Shanghai / Qingdao / Taipei
Chinese
Geotechnical Analysis seminar
UC-1 ground
analysis series
8/1
Shanghai / Qingdao / Taipei
Chinese
Shade3D
Shade3D
8/2
Web
English
UC-win/Road VR seminar
UC-win/Road
8/8
Shanghai / Qingdao / Taipei
Chinese
UC-win/Road DS seminar
UC-win/Road
Driving Simulator
8/9
Web
English
Shade3D seminar
Shade3D
8/21
Shanghai / Qingdao / Taipei
Chinese
Allplan seminar
Allplan
8/30
Shanghai / Qingdao / Taipei
Chinese
DesignBuilder seminar
DesignBuilder
9/5
Web
English
Engineer's Studio® seminar
Engineer's Studio®
9/13
Vietnam / Yangon
Vietnamese
/ Myanmar
UC-win/Road DS seminar
UC-win/Road
Driving Simulator
9/19
Shanghai / Qingdao / Taipei
Chinese
UC-win/Road SDK seminar
UC-win/Road SDK
Prof. Yasushi Ikeda
Chief of executive committee of VDWC
Graduate School of Keio University
Representative of IKDS
Prof. Kostas Terzidis
Tongji University, China
Prof. Masaru Minagawa
Professor of Faculty of Engineering
Department of Urban and Civil
Engineering /Vice President,
Tokyo City University
Prof. DAVID TSENG
National Chiao Tung
University,Taiwan
| | |
| --- | --- |
| | VDWC/CPWC Final open judging and Award Ceremony |
Date : Thu. November 14, 2019 / Venue : Shinagawa Intercity Hall (MAP)


---

The winning award works will be selected through the final judging committee and judge on cloud via VR-Cloud® and the Award Ceremony will be held.

Judging standard

---

The use of UC-win/Road is mandatory for the creation of the work. In addition, contestants must use at least one more FORUM8 software/solution to create their project, which must have the element of the BIM/CIM and VR and the capability to be used within these disciplines. The works will be evaluated based on :

Incorporation of BIM/CIM and VR concepts
Conception time
Design quality
Logicality and technical capability
Aesthetic appeal and originality
Presentation skills

Copyright
All VR data content is the copyright material of the individual applicant
The submitted VR data will not be redistributed, but FORUM8 holds the right to

Access project data and material
Edit or reproduce created media (images or video)
Post or introduce it on websites, magazines, books, newspapers etc. as a sales activity or an advertisement
Virtual Design World Cup
The 8th Student BIM & VR Design Contest

Theme 2018
"Sharable urban system of future Shanghai"


---

Virtual Design World Cup
The 7th Student BIM & VR Design Contest

Theme 2017
"Yangon -Aiming for an ideal and sustainable Asian city"


---

Virtual Design World Cup
The 6th Student BIM & VR Design Contest

Theme 2016
"Extension of the central city Melbourne"


---

Virtual Design World Cup
The 5th Student BIM & VR Design Contest

Theme 2015
"Redevelopment of Keelung Station Area in Taiwan"


---

Virtual Design World Cup
The 4th Student BIM & VR Design Contest

Theme 2014
"Sustainable Olympic Town in Tokyo Bay 2020"


---

Virtual Design World Cup
The 3rd Student BIM & VR Design Contest

Theme 2013
"Sustainable Station Front in Global Metropolis"


---

Virtual Design World Cup
The 2nd Student BIM & VR Design Contest

Theme 2012
"Sustainable Design of Marine City"


---

Virtual Design World Cup
The 1st Student BIM & VR Design Contest


Theme 2011
"SHIBUYA Bridge"


---
Page Top

---